Selecta Biosciences Announces Presentation of Data from Phase 3 DISSOLVE Program of SEL-212 in Chronic Refractory Gout During Late-Breaking Session at the EULAR 2023 European Congress of Rheumatology
- Phase 3 DISSOLVE I and DISSOLVE II studies both met their primary efficacy endpoints, with SEL-212-treated patients demonstrating statistically significant higher response rates compared to placebo -

- SEL-212 was observed to have a favorable safety profile and was well-tolerated across both doses of ImmTOR -
- BLA filing expected in 1H 2024 -
WATERTOWN, Mass., May 31, 2023 (GLOBE NEWSWIRE) -- Selecta Biosciences, Inc. (NASDAQ: SELB), a biotechnology company leveraging its clinically validated ImmTOR™ platform to develop tolerogenic therapies for autoimmune diseases and gene therapies, today announced the presentation of positive data from the Phase 3 DISSOLVE I and DISSOLVE II double-blind, placebo-controlled studies of SEL-212 in patients with chronic refractory gout. SEL-212 is a combination of Selecta's ImmTOR immune tolerance platform and a therapeutic uricase enzyme (pegadricase). The data were featured during a late-breaking oral presentation at the European Alliance of Associations for Rheumatology (EULAR) 2023 European Congress of Rheumatology being held May 31 – June 3 in Milan, Italy.
"Marked by chronic pain and significant functional impairment, chronic refractory gout carries a large disease burden, with currently available therapies falling short and patients experiencing an impaired and poor quality of life," stated the study's lead author and Principal Investigator of the DISSOLVE Program, Herbert S.B. Baraf, M.D., FACP, MACR, founding Medical Director of The Center for Rheumatology and Bone Research, and Clinical Professor of Medicine at George Washington University in Washington, DC. "We believe SEL-212 has demonstrated strong potential to serve as a safe and effective uricase-based intervention for patients suffering from this debilitating disease without the need for separate oral traditional immunosuppressants and with the convenience of once-monthly dosing."
"The efficacy and safety profile observed across the Phase 3 DISSOLVE program underscores our belief that the ImmTOR platform, which, to our knowledge, represents the only immune tolerance platform with positive Phase 3 data, has the potential to deliver meaningful tolerogenic therapies. We look forward to continuing to work with our partner, Sobi®, to file a Biologic License Application (BLA) for SEL-212 in the first half of next year," said Carsten Brunn, Ph.D., President and Chief Executive Officer of Selecta.
DISSOLVE I & II Results
DISSOLVE I (US Study) & DISSOLVE II (Global Study) were Phase 3, double-blind, placebo-controlled studies of SEL-212 evaluated at two doses of ImmTOR™ (0.1 mg/kg and 0.15 mg/kg) and one dose of pegadricase (0.2 mg/kg). In March 2023, the Company announced topline data from both studies. Data featured at EULAR 2023 Congress are summarized below.
Both Phase 3 studies and both once-monthly SEL-212 doses tested met primary efficacy endpoints, achieving a statistically significant response rate, defined as the percentage of patients who achieved and maintained a serum urate (SU) < 6 mg/dL for at least 80% of the sixth 28-day treatment period, and reductions in SU compared to placebo.

The response rate in the high dose group was 56% in DISSOLVE I and 46% in DISSOLVE II.

The response rate in the high dose group for patients ≥50 years old was 65% and 47% in the DISSOLVE I & II studies, respectively.
For the secondary endpoint of reduction in SU from baseline, a marked reduction of approximately 60% was observed in both studies for both dose levels.
SEL-212 was observed to have a favorable safety profile and well-tolerated across both doses levels.

A copy of the presentation will be available in the Resources section of Selecta's website, http://www.selectabio.com/.
About the DISSOLVE Clinical Program
The Phase 3 DISSOLVE clinical program consisted of two double-blind, placebo-controlled studies of SEL-212, titled "A Randomized Double-Blind, Placebo-Controlled Study of SEL-212 in Patients with Gout Refractory to Conventional Therapy," in which SEL-212 was evaluated at two doses of ImmTOR (0.1 mg/kg and 0.15 mg/kg), and one dose of pegadricase (0.2 mg/kg) in both studies. In DISSOLVE I, safety and efficacy were evaluated at six months and with a six-month blinded extension to evaluate safety. DISSOLVE II assessed safety and efficacy at only the six-month time point, with no extension. The primary endpoint in both studies was serum urate (SU) control during month six, a well-validated measure of disease severity in chronic refractory gout. Secondary endpoints include tender and swollen joint counts, tophus burden, patient-reported outcomes of activity limitation and quality of life and gout flare incidence. For more details about the study, visit clinicaltrials.gov (NCT04513366).
About SEL-212
SEL-212 is a novel investigational combination medicine designed to reduce serum urate (SU) levels in people with chronic refractory gout, potentially reducing harmful tissue urate deposits which when left untreated can lead to debilitating gout flares and joint deformity. SEL-212 consists of pegadricase, Selecta's proprietary pegylated uricase, co-administered with ImmTOR, designed to mitigate the formation of anti-drug antibodies (ADAs). ADAs develop due to unwanted immune responses to biologic medicines, reducing their efficacy and tolerability, which remains an issue across multiple therapeutic modalities and disease states including chronic refractory gout.
About Selecta Biosciences, Inc.
Selecta Biosciences Inc. (NASDAQ: SELB) is a clinical stage biotechnology company leveraging its ImmTOR™ platform to develop tolerogenic therapies that selectively mitigate unwanted immune responses. With a proven ability to induce tolerance to highly immunogenic proteins, ImmTOR has the potential to amplify the efficacy of biologic therapies, including redosing of life-saving gene therapies, as well as restore the body's natural self-tolerance in autoimmune diseases. Selecta has several proprietary and partnered programs in its pipeline focused on enzyme therapies, gene therapies, and autoimmune diseases. Selecta Biosciences is headquartered in the Greater Boston area. For more information, please visit www.selectabio.com.
Selecta Forward-Looking Statements
Any statements in this press release about the future expectations, plans and prospects of Selecta Biosciences, Inc. (the "Company"), including without limitation, statements regarding the unique proprietary technology platform of the Company and its partners, the potential of ImmTOR to enable re-dosing of AAV gene therapy and to mitigate immunogenicity, the potential of ImmTOR and the Company's product pipeline to treat chronic refractory gout, MMA, IgAN, liver diseases, other autoimmune diseases, lysosomal storage disorders, or any other disease, the anticipated timing or the outcome of ongoing and planned clinical trials, studies and data readouts, the anticipated timing or the outcome of the FDA's review of the Company's regulatory filings, the Company's and its partners' ability to conduct its and their clinical trials and preclinical studies, the timing or making of any regulatory filings, the anticipated timing or outcome of selection of developmental product candidates, the ability of the Company to consummate any expected agreements and licenses, the potential treatment applications of product candidates utilizing the ImmTOR platform in areas such as gene therapy, gout and autoimmune disease, the ability of the Company and its partners where applicable to develop gene therapy products using ImmTOR, the novelty of treatment paradigms that the Company is able to develop, the potential of any therapies developed by the Company to fulfill unmet medical needs, the Company's plan to apply its ImmTOR technology platform to a range of biologics for rare and orphan genetic diseases, the potential of the Company's technology to enable repeat administration in gene therapy product candidates and products, the ability to re-dose patients and the potential of ImmTOR to allow for re-dosing, the potential to safely re-dose AAV, the ability to restore transgene expression, the potential of the ImmTOR technology platform generally, the Company's ability to grow its strategic partnerships, and enrollment in the Company's clinical trials and other statements containing the words "anticipate," "believe," "continue," "could," "estimate," "expect," "hypothesize," "intend," "may," "plan," "potential," "predict," "project," "should," "target," "would," and similar expressions, constitute forward-looking statements within the meaning of The Private Securities Litigation Reform Act of 1995. Actual results may differ materially from those indicated by such forward-looking statements as a result of various important factors, including, but not limited to, the following: the uncertainties inherent in the initiation, completion and cost of clinical trials including proof of concept trials, including uncertain outcomes, the availability and timing of data from ongoing and future clinical trials and the results of such trials, whether preliminary results from a particular clinical trial will be predictive of the final results of that trial and whether results of early clinical trials will be indicative of the results of later clinical trials, the ability to predict results of studies performed on human beings based on results of studies performed on non-human subjects, the unproven approach of the Company's ImmTOR technology, potential delays in enrollment of patients, undesirable side effects of the Company's product candidates, its reliance on third parties to manufacture its product candidates and to conduct its clinical trials, the Company's inability to maintain its existing or future collaborations, licenses or contractual relationships, its inability to protect its proprietary technology and intellectual property, potential delays in regulatory approvals, the availability of funding sufficient for its foreseeable and unforeseeable operating expenses and capital expenditure requirements, the Company's recurring losses from operations and negative cash flows, substantial fluctuation in the price of the Company's common stock, risks related to geopolitical conflicts and pandemics and other important factors discussed in the "Risk Factors" section of the Company's most recent Annual Report on Form 10-K and subsequent Quarterly Reports on Form 10-Q, and in other filings that the Company makes with the Securities and Exchange Commission. In addition, any forward-looking statements included in this press release represent the Company's views only as of the date of its publication and should not be relied upon as representing its views as of any subsequent date. The Company specifically disclaims any intention to update any forward-looking statements included in this press release, except as required by law.
For Investors and Media:
Blaine Davis
Chief Financial Officer
bdavis@selectabio.com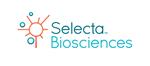 Source: Selecta Biosciences, Inc.